Note: The Jowett Car Club can supply an extensive range of spare parts to Full members
1952 Jowett Jupiter E1 SA 554R For Sale

I purchased this lovely Jupiter in 2004, shortly after it was shipped form England, where it had been fully restored and kept original. It has attended many JCCA National and State rallies, the most distance travelled being to the 2010 Esperance rally in WA, a round trip of 6,800Km. It performed beautifully. Colour is British racing green with beige interior. Historic registration to September 2023, but non-transferable.
Engine rebuilt by Brian Holmes in 2005
Bench Seat Lap seat belts fitted

Gearbox rebuilt New rack and pinion

radiator re-cored New distributor and coil

electric fuel pump fitted rear tail shaft changed to universal joint

electric fan fitted Also has nylon mechanical fan
E: info@waitandsee.net.au

1951 Duckett Jupiter For Sale

1951 Duckett Jupiter owned since 2002, I am the second owner after Lyndon Duckett who had the genuine Jowett factory chassis built into a sports/racing car to his specifications.
The car has successfully competed on the historic circuits in NSW over the ensuing 16 years until I retired from competition in 2017. Fitted with a 1680 cc Jowett engine, oversized valves, high compression heads, a lightened flywheel, a Bond Roll bar, 3-point harness and tonneau, the 14-cwt car has plenty of torque.
It comes with three sets of wheels. One set on 15" ¼" steel centred with Toyo 185/65 Radial tyres, one 16" set with widened rims fitted with Pirelli Cinturato tyres and one set of standard Jupiter wheels fitted with original 5.50 x 16 Olympic cross plies.
Its engine no. is E1SA69R and there is also available a complete (matching numbers) spare engine and gearbox the latter brand new never used.
A galvanised two-wheeled custom-built, to suit the Duckett, lightweight trailer with electric brakes and fitted with ramps is also provided making the all up towing weight exactly one ton.
Asking price for the package is $24,500
Call Ed Wolf 02 9948 3598 or 0411 105 773 or email eswolf@optusnet.com.au

CLICK to view the Duckett story
For Sale: 1950 Bradford Ute

Graeme Pearson is selling his 1950 Bradford utility. This is a completely original vehicle. It runs well
Chassis number: 3058250 Engine number: KDE1CC62

Price: $9,000.00
Contact: Graeme Pearson: (08) 89927703 email: acarr.darwin@gmail.com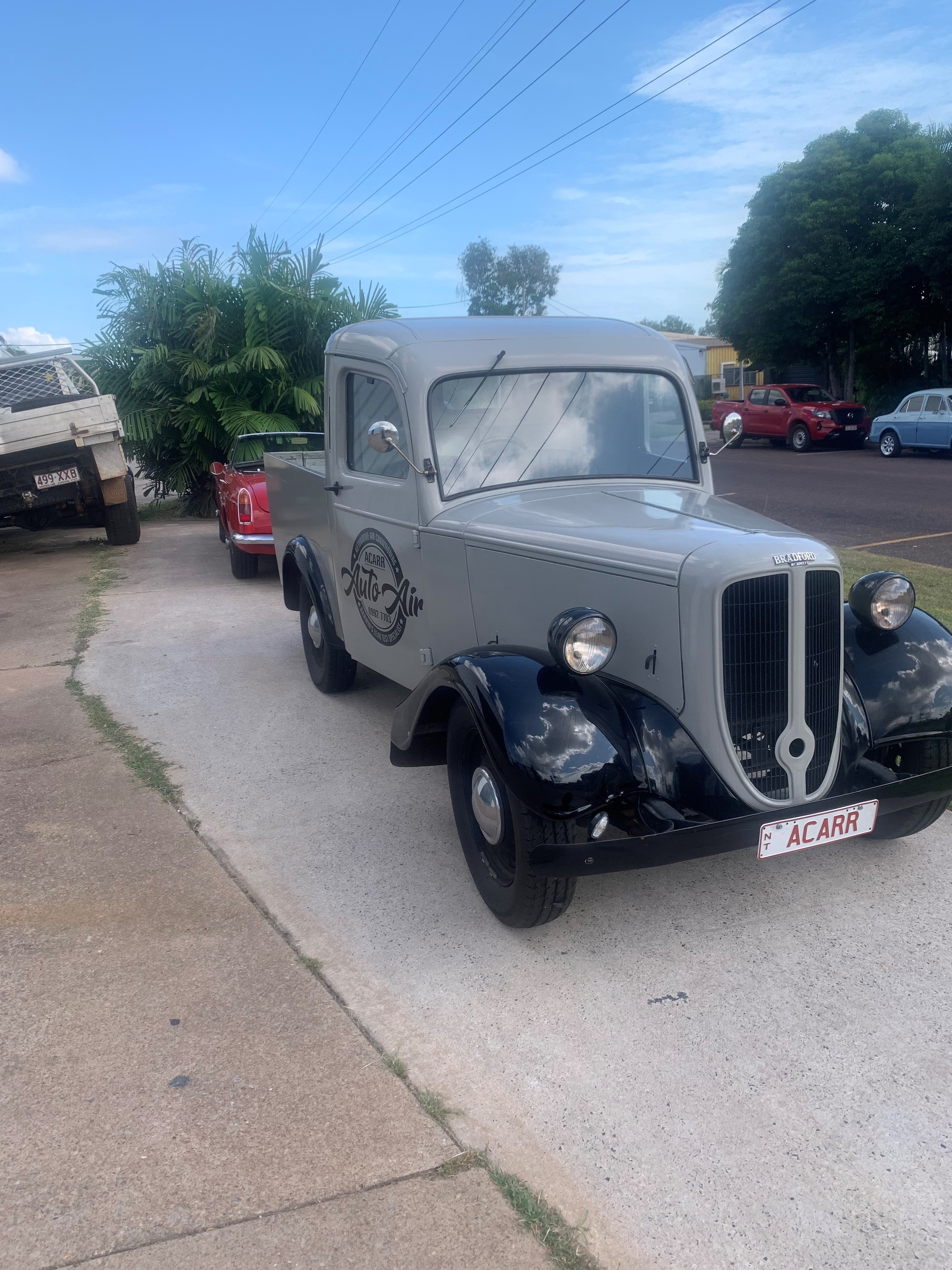 1949 PB Jowett Javelin Deluxe
Chassis No: D9PB6494D, Engine No E1PC18944
Ex-Allen Caldwell, Northern Territory.
Current ODO: 73,871 miles (believed to be original)

Red exterior, brown deluxe interior; seats have been reupholstered and are in good condition. No rust in body or chassis. Current owner for 19 years but only put back on road in late 2018 after 10 years in hibernation & has done minimal miles since.
The car is currently running, used regularly, and is registered in the NT on full rego until March 2020.
The car has had the front brakes rebuilt, and runs a 3-row radiator core that has eliminated all overheating in the NT. Other work includes carburettors serviced, new in-line fuel pump & filter fitted. Electricals repaired for registration, and new tubes fitted to all tyres. New battery. All coolant hoses replaced. Includes most of the original tools in the tool kit.
Spare parts available: spare crankcase (no engine number stamped on plinth), 2 cylinder heads, gearbox, new 2-row radiator.


Refer to Alvin Jenkin's article on this car which was published in the JCCA newsletter "The Javelin" May/June 2018, volume 61.3


Car is to be sold as-is, where-is, without a current RWC & comes with the spare parts (will not separate).
For sale: $8,500 ONO.
Currently located in Millner, NT, a suburb of Darwin. (Quoted cost to transport car & spares to Brisbane, QLD: $1,000 is not included, cost to transport to other capital cities available on request)
Additional photos & videos of the engine running are available on request.
Contact for further information: Terry Haughey 0418 829 366 or via email: kelbyair@yahoo.com.au