NOTE: The Jowett Car Club can provide advice and an extensive range of spares to club members
For Sale -
my two Bradfords
To be sold together as a pair.
One for rebuild, the other for parts.
The one for rebuild is a CC, the parts one is a CB.
Most parts and panels to complete as a ute.
Includes all instruments, windscreen, headlights with glasses.
Reconditioned engine.
Brakes redone but need adjusting.
I spent $400.00 getting the fuel tank professionally cleaned and lined.
New engine mounts and other new parts.
Bradfords are located in Dayboro, South East Queensland.
$2,250.00 for both.
Phone Peter Burns – 0407 624417.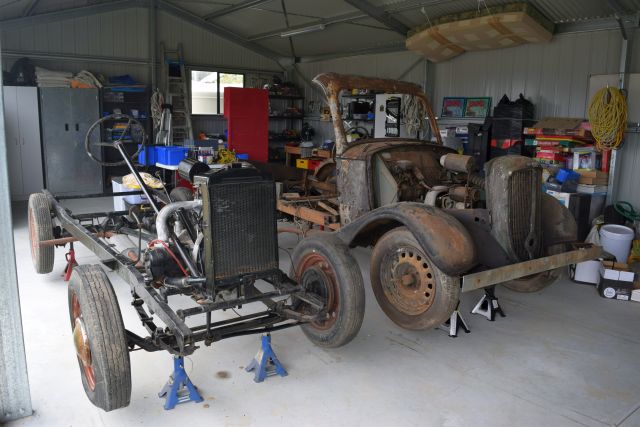 1949 PB Jowett Javelin Deluxe
Chassis No: D9PB6494D, Engine No E1PC18944
Ex-Allen Caldwell, Northern Territory.
Current ODO: 73,871 miles (believed to be original)

Red exterior, brown deluxe interior; seats have been reupholstered and are in good condition. No rust in body or chassis. Current owner for 19 years but only put back on road in late 2018 after 10 years in hibernation & has done minimal miles since.
The car is currently running, used regularly, and is registered in the NT on full rego until March 2020.
The car has had the front brakes rebuilt, and runs a 3-row radiator core that has eliminated all overheating in the NT. Other work includes carburettors serviced, new in-line fuel pump & filter fitted. Electricals repaired for registration, and new tubes fitted to all tyres. New battery. All coolant hoses replaced. Includes most of the original tools in the tool kit.
Spare parts available: spare crankcase (no engine number stamped on plinth), 2 cylinder heads, gearbox, new 2-row radiator.


Refer to Alvin Jenkin's article on this car which was published in the JCCA newsletter "The Javelin" May/June 2018, volume 61.3


Car is to be sold as-is, where-is, without a current RWC & comes with the spare parts (will not separate).
For sale: $8,500 ONO.
Currently located in Millner, NT, a suburb of Darwin. (Quoted cost to transport car & spares to Brisbane, QLD: $1,000 is not included, cost to transport to other capital cities available on request)
Additional photos & videos of the engine running are available on request.
Contact for further information: Terry Haughey 0418 829 366 or via email: kelbyair@yahoo.com.au