The following article was taken from our club magazine "The Javelin" November 1989 – February 1990 Volume 32 Number 4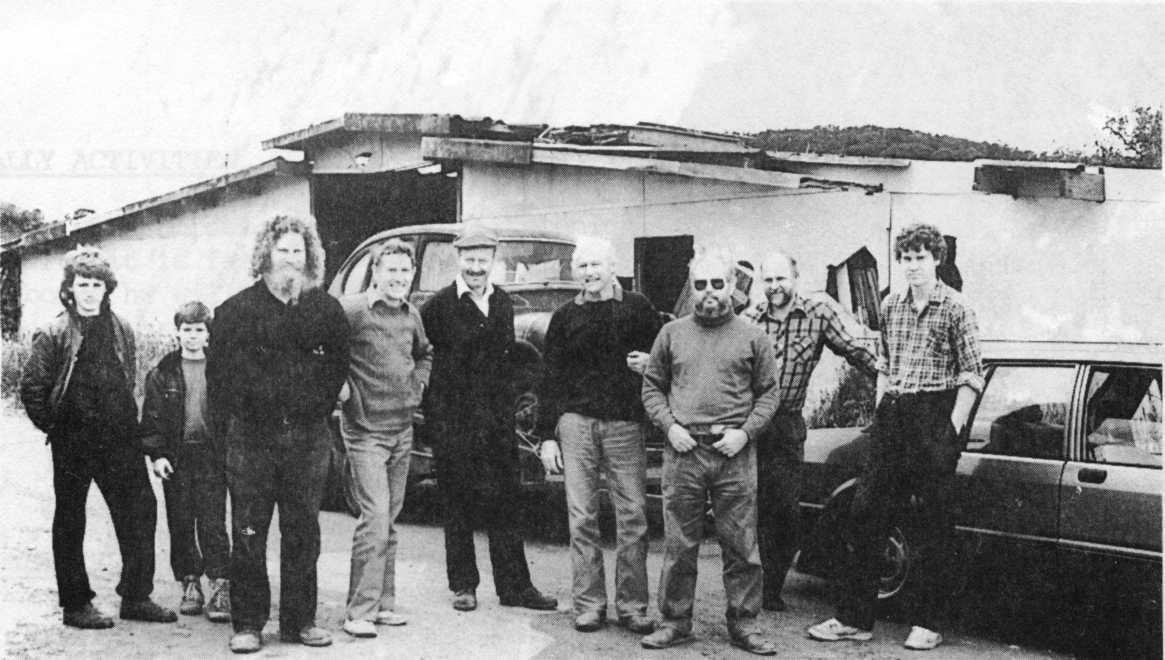 A willing band of helpers
From left to right Adam Coakley, Timothy Allfrey, Peter Coakley, Peter Carboon, Tony Steele, Frank De Pinna, Doug Anderson,Greg Cummins. Chris Carboon
ROWVILLE 1989.
Outer urban development has meant that our parts and Javelins which were stored at the "chook farm" at Rowville would have to be moved quickly. I have described the movement of our spare parts so here is the story of how the Javelins were moved.
At last we had an activity where some members got involved, which was great. Tony Steele came all the way from Birregurra to help. Also present were, from left to right in the photograph, Adam Coakley, Timothy Allfrey, Peter Coakley, Peter Carboon, Tony Steele, Frank de Pinna, Doug Anderson, Greg Cummins and Chris Carboon. Out of the picture at the railway workshops was organizer Bill Fock. Thanks are due to Greg for organizing a trailer which effectively halved the amount of time it took to move the cars.
During the week before the event we collected as many wheels as possible so that air could be pumped into the tyres, thus making movement or the four cars easier. The whole move went off very well and the cars have been moved from the "chook shed" to the "choo choo shed"!
Since the move we have sold two of the Javelins. One has gone to Walgett in N.S.W. into the capable hands of Kevin Hodges and the other was sold locally by Doug Anderson. Kevin came down to Bendigo swap meet, got rid of a Buick and drove home with the Javelin perched atop a real outback style trailer. He took the graffitiest car from Werribee, I believe, for nostalgic reasons. Maybe we will see it at a NATIONAL PALLY soon? Having finally met Kevin I am sure it has gone to a good home.
A suggestion has been made that our parts and remaining two Javelins be placed into preserved railway vans. This would certainly make our next move easy – imagine all of the steam power of R707!!! Thank goodness Victoria has 5′ 3″ rail gauge – think about it!!
There still remains the maroon deluxe Javelin which is a very good basis for a restoration project, it has been started so is not quite as daunting as some projects which have been attempted.
The letters from Kevin Hodges which follow contain messages which should be conveyed to all members, particularly those who helped in the move.
My thanks to you for the assistance given in my picking up the Javelin and the warmth of your welcome. I really enjoyed my brief visit and can see the club is in good hands.
We don't say as often as we should, thank you to those who do the work to make things happen, so on behalf of the silent majority let me say , Thank you, it is very much appreciated.
I envy Frank his Jupiter, maybe someday the good fairy will produce one for me? Time will tell.
My next trip to Vic. will be longer so I can enjoy the company more, and remember, I have spare beds here.
All the best,
Kevin Hodges.
6-12-89
Dear Mike,
Thank you for your contribution in assisting with my pick up of the Javelin. I really appreciated it and thank your family for me taking you away on a Sunday.
Possibly you all might like to head up here for a holiday some time and see the Opal Fields and life in the bush. I have plenty of room so your costs would only be fuel and food, give it some thought.
I am writing an article on my trip, nearly finished, and I am doing one on clutches, will send them down soon.
All the best,
Kevin Hodges.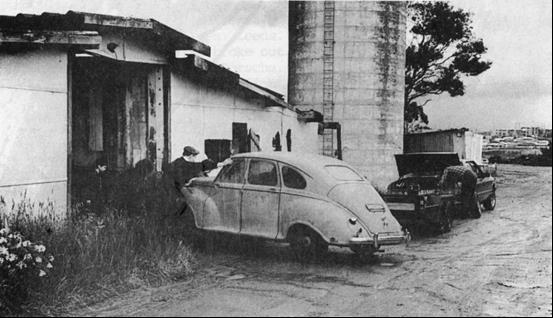 PB model Javelin emerges from the chook shed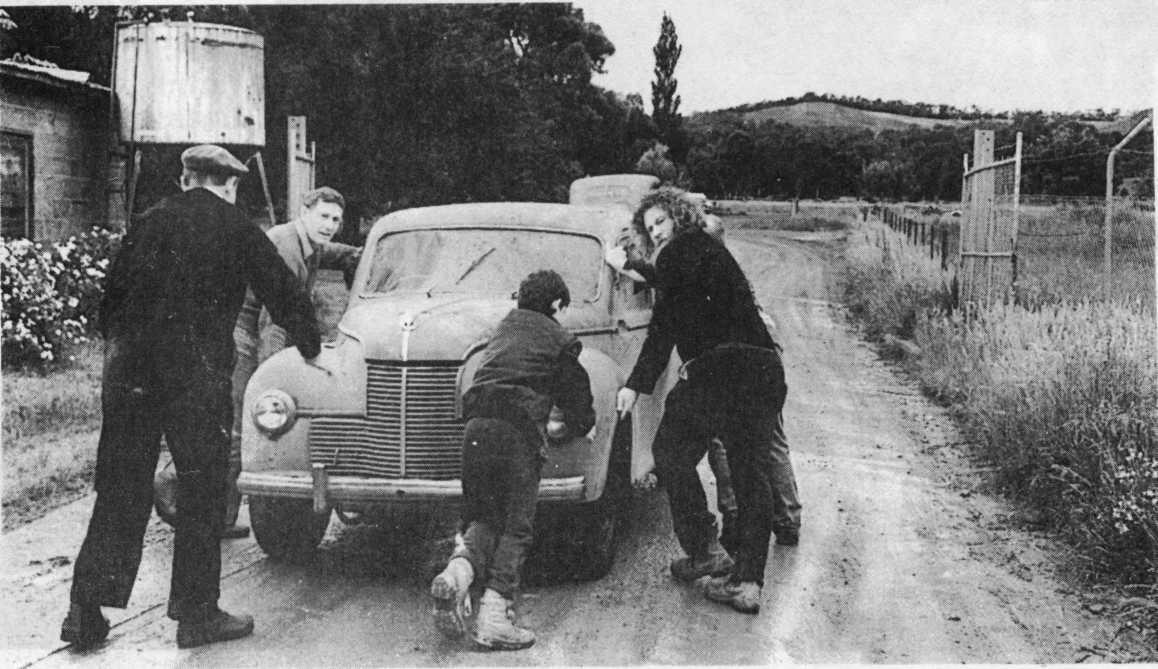 4.5 manpower up the slope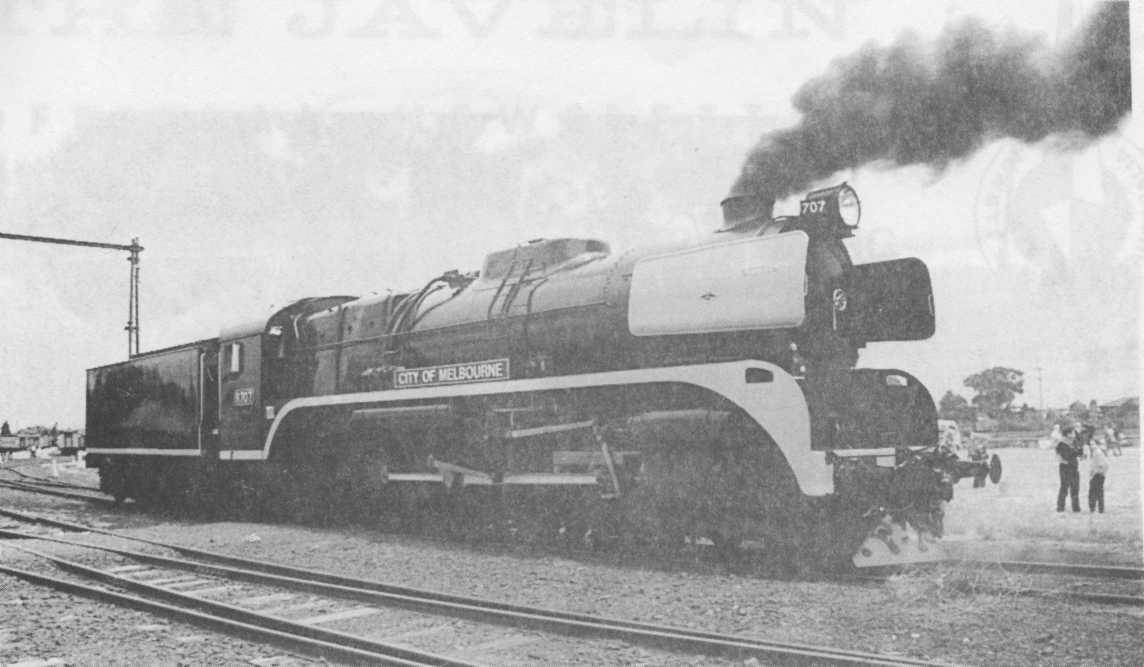 A Period stablemate for the Jowetts
R707 'City of Melbourne'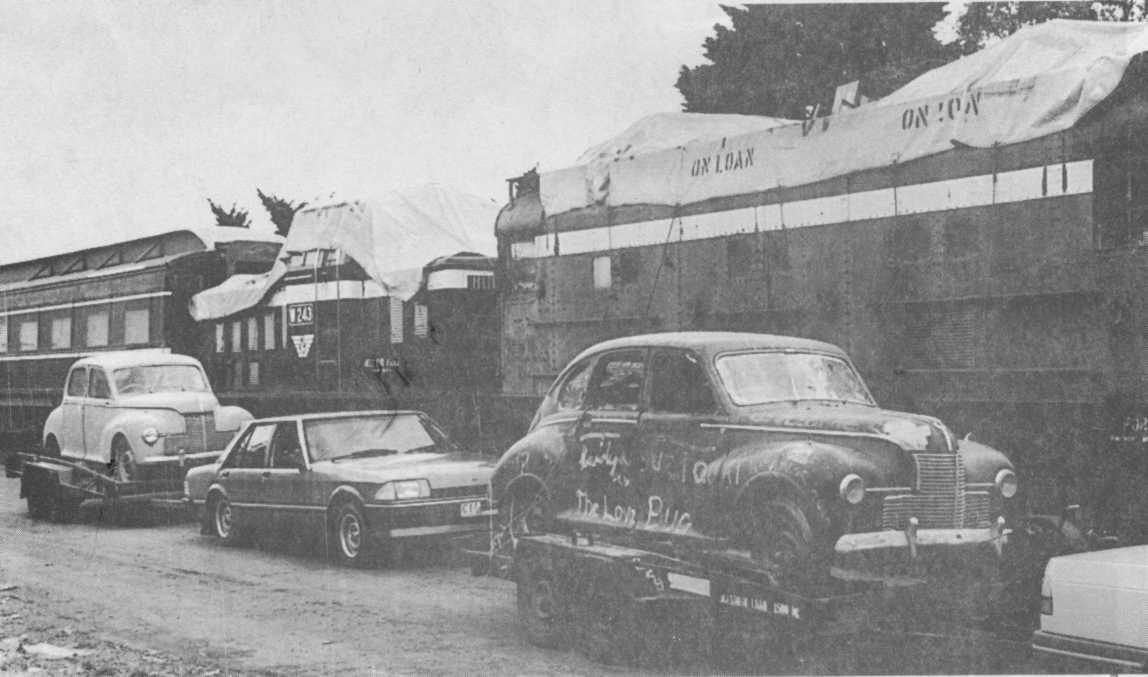 We are all part of the preservation movement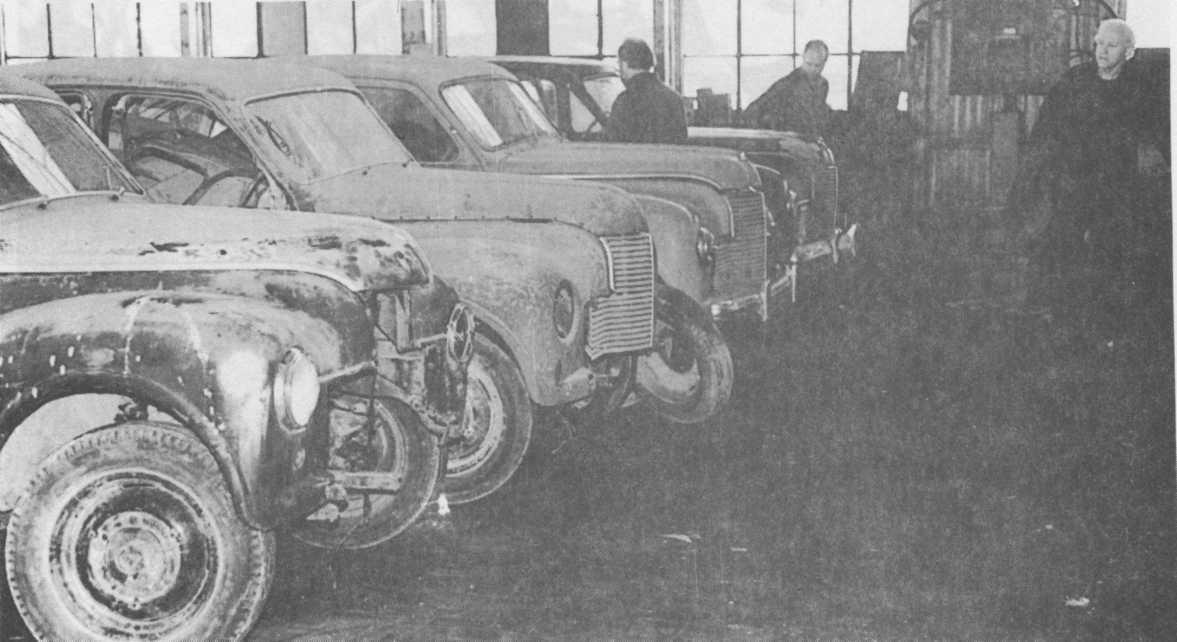 First there were four, now there are two. Kevin Hodges took the fourth Javelin from the left. The second Javelin from the left is a very good restoration project.