70 years of the Jowett Javelin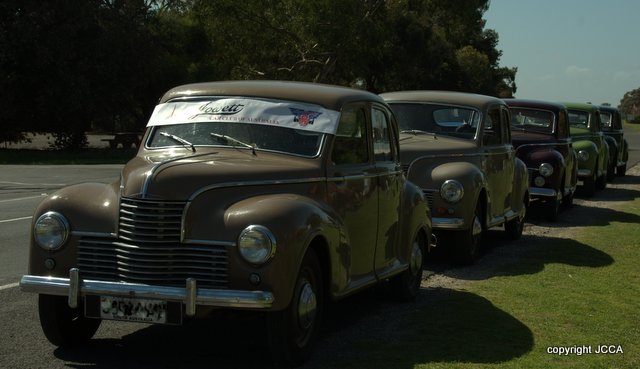 Jowett was a manufacturer of light cars and light commercial vehicles in Bradford, West Riding of Yorkshire, England from 1906 to 1954.
Gerald Palmer was born in Rhodesia (Zimbabwe) and came to Bradford as Chief Designer on 19 September 1942 with a simple brief – to design a car that would appeal to both and overseas markets alike, with a cost ceiling of £500. Palmer's design focused on a flat four push rod engine placed well forward, above the front axle. His design was of unitary construction. It comprised a vertically split crankcase in die cast aluminium, held together by substantial tie bolts, using twin zenith carburettors and having a volume of 1486cc. The car also used front independent suspension while the rear had the more conventional beam axle and transverse torsion bars. The floor was flat, as the transmission ran below it, giving passengers maximum leg room.
The first prototype DKY396 was completed and registered on 25 August, 1944. This car and two later protoypes, DKY463 and EAK771 were constantly tested through 1945 and into 1946. EAK771 was displayed to the public for the first time at the London Cavalcade of Motoring on 27th July 1946, and at a similar event in Edinburgh on 7th October. It was the first all new car after the war, rather than just a pre-war model.
 It had a top speed of 80mph (128 Km/h), with 30mpg (9.4 litre per 100 km) and acceleration to 60mph (96 Km/h) in 23 seconds.
It was roomy and with good handling, a real sports saloon. Owing to shortages of raw material the cars were not available until 1948 : 70 years ago!
Javelins were entered in the January 1949 Monte Carlo Rally, winning the 1.5 litre class and being 14th overall. Following this success, the company entered a Javelin in the spa 24 hour race in Belgium in June 1949. It was entered in the 2 litre class which it won with ease. Javelins came first, second and fourth in the 1951 Monto Carlo and won the 1953 Tulip rally.
Production reached 5,551 in 1950 and 5,769 in 1951, falling to 4,060 in 1952. Production then ceased, 22,799 Javelins had been put on the road over a period of five years.
The Jowett company went into voluntary liquidation in 1954.